Acupuncture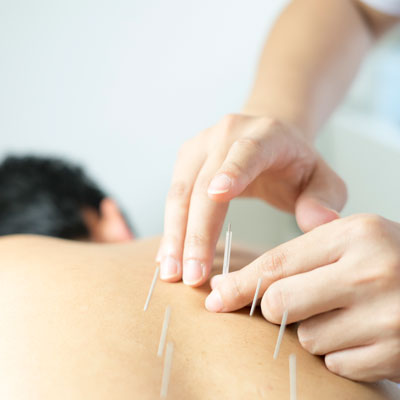 Thought to have originated in China thousands of years ago, acupuncture has recently become increasingly common in the U.S. It's well-known for dealing with aches, pain and disease. At AdKore Rehabilitation Chiropractic & Physical Therapy, we are pleased to offer acupuncture from our Doctor of Acupuncture and Traditional Chinese medicine.
How Acupuncture Works
All over your body, you have specific acupuncture points. When a point is stimulated, it causes a cascade of events in the brain and body. The chemicals released include your natural painkillers and anti-inflammatories. The process is designed to get your body to correct an imbalance that is occurring.
What to Expect
Please wear loose-fitting clothing to your appointment. Note that acupuncture is not advised if you have been fasting. Though you may have anxiety about needles stemming from childhood vaccinations, know that what we are doing will be nothing like that. You'll be pleasantly surprised to find that acupuncture is enjoyable!
You can fill out a new patient form online. When you arrive, you'll sit down with our acupuncturist to have a comprehensive evaluation. We'll go through your concerns to get a complete picture of what's causing your pain. You'll be able to ask all the questions you have before embarking on treatment.
When you feel ready, the hair-like needles will be inserted as needed. You won't feel most of them. Others may give a slight pinching sensation that's over quickly. Even children receive acupuncture, so you can rest assured there isn't any pain involved.
The Conditions That Benefit From Acupuncture
There is a range of different concerns that can be effectively addressed with acupuncture. Some that we see most often include
Arthritis/rheumatoid arthritis/osteoarthritis
Back and neck pain
Headaches and migraines
Herniated/bulging discs
Inflammation
Joint pain
Knee pain
Pinched nerves
Sciatic pain
Sports injuries
Frequently Asked Questions
Even though acupuncture involves the use of small needles inserted into your body, the needles are so thin that most don't even feel them being placed. If you ever feel uncomfortable during a session, please let us know.
Insurance can be used for an acupuncture appointment so long as your visit is rooted in pain-i.e., if you're visiting us for back pain, most insurance companies will allow you to receive acupuncture. However, if you'd like to visit us for help with a non-pain issue, you may have to be a cash patient.
Yes! We're proud to offer affordable cash rates for all of our services so that you can experience the natural care that your body deserves.
We see clients of all walks of life who visit us to get help for a variety of conditions, including internal inflammation, pain, headaches, arthritis, and even to stop smoking. Acupuncture works to help restore proper balance to your body and encourages internal symptoms to work as designed as blockages are removed.
At this time, we do not perform acupuncture sessions for children. We do welcome kids to experience the benefits of focused chiropractic adjustments, however.
Is Acupuncture Right for Me?
The only way to know whether acupuncture can help you is to come in for a consultation. Contact AdKore Rehabilitation Chiropractic & Physical Therapy to set up your appointment for acupuncture Sanford!
CONTACT US »

Acupuncture Sanford FL | (407) 328-7595