Every day, we're privileged to help our patients get out of pain and on the path to healing. One of our patients, Alicia Swan, shared how we helped her.
Doctors and Staff are Fantastic
By Alicia Swan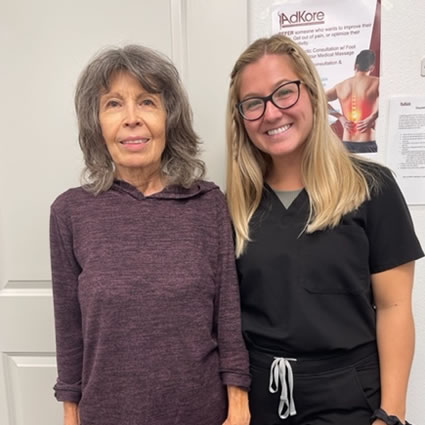 After I had an auto accident, I saw an orthopedist for my neck pain, but he was unable to treat me. Getting injections for the pain was recommended, but I didn't want to get them. Instead, I decided to go to AdKore Rehabilitation Chiropractic & Physical Therapy.
My neck pain went away, but then I started having pain in my back that went down my lower back into my leg. The pain was so severe that I couldn't even walk. I continued to get massage therapy, chiropractic care and physical therapy, and am now pain-free! I recommend this practice because the doctors and staff are fantastic and treat you so well. They also helped me with the paperwork related to my accident.
Even though I'm out of pain, I continue to come in once a month for maintenance appointments.
Book an Appointment
Discover how our multidisciplinary approach may help you, as it did Alicia. Contact us today to schedule an appointment!