Physical Therapy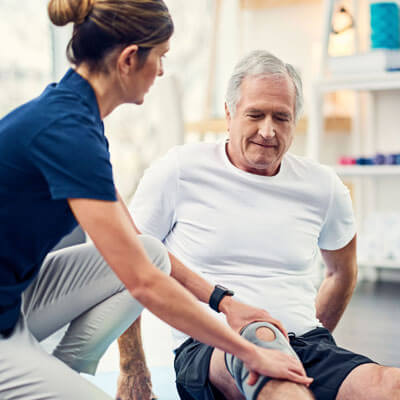 When you're hurt, you feel like you can't move. Your mobility, however, is the key to starting your healing. At AdKore Rehabilitation Chiropractic & Physical Therapy, we are pleased to offer physical therapy from our licensed Doctor of Physical Therapy.
What Is Physical Therapy?
From head to toe, physical therapy deals with your entire musculoskeletal system. Physical therapy involves using your body in the form of stretches, exercises and modalities such as electric muscle stimulation or medical massage.
It's designed as a functional rehabilitation program to optimize the way your body works. Whether you have neck back pain, knee pain, disc pain, joint pain, pinched nerve, sciatic pain, we will provide a tailored program to address your particular needs.
With our physical therapy, we will help retrain your muscles and your body to move in the correct ways. Through PT and rehabilitation, our goal is to get you back to the norm of what you were before your accident or injury.
Getting Started
When you begin, you'll sit down with our doctor to talk about your concern and how they developed. We'll want to know all the details, such as what aggravates your condition or what makes it better. Then, a physical examination will be performed that looks at your range of motion and strength. From this information, you'll be prescribed a personalized physical therapy program. It will include home exercises and physical therapy done in the office.
Please be sure to wear close-toed gym shoes and comfortable, non-restrictive clothing to your appointments.
Is Physical Therapy Right for You?
There is a range of different issues that may respond well to physical therapy. These include
Back and neck pain
Herniated/bulging discs
Joint pain
Pinched nerves
Sports injuries
Sciatic pain
Low back pain
Knee pain
Combining Chiropractic and Physical Therapy
An injury typically involves both the joints of the body and the muscles. Since everything is interconnected, you may benefit from practitioners who deal with each of these components. Our chiropractor can align your spine and joints.
Physical therapy will assist in keeping your alignment stable, decreasing inflammation and reducing muscle tension. We can provide post-surgery rehab after hospitalization. You also will be educated about what you can and can no longer do. At-home exercises will be given to you to assist you in your recovery. We also may recommend medical massage.
If we think that you can benefit from chiropractic and physical therapy, we'll discuss it with you at your first appointment.
FAQ
Am I a candidate for physical therapy?
If you're currently in pain, have sustained an injury, have weak areas of your spine or body or have recently undergone surgery, you might be a great candidate for physical therapy at AdKore Rehabilitation Chiropractic & Physical Therapy. Our physical therapist has a doctorate, which means you'll receive care from someone who's highly trained in the field. When you schedule your initial consultation or if you're already a patient under chiropractic care, we'll let you know if we believe that you can be helped with physical therapy sessions.
Is a physical therapy session like working out in a gym?
No, a physical therapy session isn't like a personal training session at the gym. While your sessions may involve some exercises with light weights or bodyweight, your care plan is specifically designed to strengthen your problem areas and help you recover from injury. Other goals of PT involve increasing your range of motion and helping you to move easier, therefore making your life better and allowing you to get back to doing the things you love. PT may also involve stretching and massage dependent on your needs.
How much will my PT sessions cost?
We're happy to verify your insurance information for you before your care begins so that you're fully aware of any financial commitment due on your end. We also offer a competitive cash plan to make sure everyone can receive the care they need-simply call us for more information.
We do ultrasound, EMS and medical massage. We have a medical massage therapist on staff that does the medical massages for the patients who need it and it's covered under their policy. You also will be given exercises you can do at home and education about what you can and can't do.
Yes, and we can help you obtain one.
Insurance Information
Physical therapy may be covered by your insurance. We'll check your benefits before your appointment, so there are no surprises.
Book an Appointment Today
Contact our Sanford practice now to book your consultation for physical therapy!
CONTACT US »

Physical Therapy in Sanford FL | (407) 328-7595