Spinal Decompression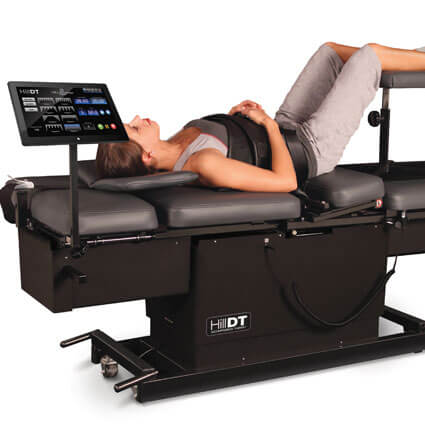 Maybe you've tried surgery, injections or acupuncture for your back pain or herniated disc. Or perhaps you're hoping to avoid surgery and are looking for a non-invasive treatment to address your cervical and low back pain. At AdKore Rehabilitation Chiropractic & Physical Therapy, we are now offering spinal decompression with the state-of-the-art Hill DT table.
The Hill DT spinal decompression table uses sophisticated load sensor technology that continually measures and monitors the treatment force and patient-resistance of every treatment. At a rate of over 10,000 pulses per millimeter, the table senses the patient's approaching threshold and decreases the pull, which allows the table to provide low-force, smooth decompression in a an entirely different class from cable-based systems.
Most of our patients who receive treatment with the Hill DT spinal decompression table are able to painlessly get off the table within seconds and with very minor soreness to follow.
What Is It?
Spinal decompression is a cutting-edge computer-assisted technology that helps treat low back and neck pain that is due to herniated, bulging, degenerated and slipped discs. This FDA-cleared therapy involves gently stretching the spine to relieve pressure from the vertebrae.
How It Works
At the beginning of each session, you will be comfortably fitted with a harness intended to achieve optimal decompression of the low back or neck. During your session, your spine will gradually be lengthened as your discs are slowly decompressed and relieved of pressure.
The pull of the table produces sufficient force, which is called the vacuum effect. This effect rehydrates the disc by allowing water and nutrients to be drawn back into the disc. As the rehydration and disc healing occurs, there's a reduction in the pressure on the nerve and nerve healing takes place.
Conditions Spinal Decompression Can Address
Here are some of the most common issues for which patients seek this therapy:
Chronic inflammation
Herniated discs
Low back pain
Neck pain
Paget's disease
Sciatica
Stenosis
Learn more about how the Hill DT Table has helped others.
Surgery Doesn't Have to Be Your Only Option
Many people with back pain and disc conditions have been told by their doctor that surgery is their only option. With spinal decompression, you may be able to avoid this invasive and risky procedure.
Part of Your Customized Care Plan
Your chiropractor may include spinal decompression treatment as part of your individualized care plan that's tailored to meet your unique needs. Your plan may include several decompression sessions along with chiropractic adjustments.
FAQ
Does it hurt to get the therapy?
No. Many patients feel a sense of relaxation and even relief while receiving the therapy.
Not everyone is eligible for spinal decompression. To determine eligibility, a person is sent out for an MRI. We can arrange an MRI for you.
Yes, spinal decompression has an impressive success rate of over 90% when it comes to symptom reduction.
Your session will take about 30 minutes.
Is there anything I need to wear for this therapy?
No, just wear comfortable clothing.
How many sessions will I need?
Every patient is different, but you may need 12-20 sessions to get optimal results. Your chiropractor will design a customized program of care for you based on your individual needs.
Should I have chiropractic or massage before my session?
Usually, we recommend an adjustment before so your spine is aligned first. Some patients also get massages before the decompression because of all the scar tissue or their body is so tight because of the pain.
Are there any associated side effects?
The majority of people who receive spinal decompression don't have any major side effects. The most common side effect is a dull, achy feeling for the first week or two as the body gets used to being stretched and decompressed.
Book an Appointment
Contact our Sanford practice today to schedule an appointment for spinal decompression!
CONTACT US »

Spinal Decompression in Sanford FL | (407) 328-7595